The garden owners make a lot of efforts to make the landscape of the suburban area look spectacular, pleasing to the eyes of both owners and guests. Nothing decorates a UK country estate like a picturesque pond located on its territory. Creating a full–fledged pond is not an easy task, since not everyone can sacrifice a large territory for an artificial reservoir. There is an alternative – a creation of pond in a container. The procedure is much simpler and even with waterfall cheap, but the essence is almost the same. Don't you believe it? Let's figure out what a pond in a container is, its strengths, as well as the principle of creation, placement of flowers and rules of care.
How to choose the right place for a pond in the garden?
To do this, you need to take into account a number of factors:
the size of the plot. It directly affects the size of the pond itself and its configuration;
soil composition and groundwater level. They have a direct impact on the depth of the pond, the complexity of the work;
It is desirable that the pond is located in a shaded place. The time of exposure to direct sunlight should not exceed 5-6 hours.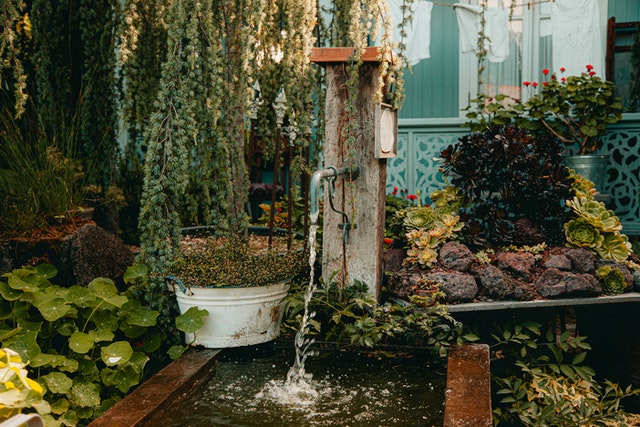 After that one can start building a garden pond. Put the frame of the pond in the chosen place, and then mark the boundaries of the future reservoir. Dig a hole according to the marks to the depth of the pond container and remove all the stones from the ground. Fill the bottom with a layer of sand 2 cm thick and pour water thoroughly. Then place the pond bowl in the pit and slowly fill the container with water so that it is on a level with the ground — otherwise the shape may deform. Fill the distance between the walls of the tank and the pit with earth, tamp it and pour water. Disguise the plastic edges and decorate with stones. After that, you can start planting.
If we go to the specifics, then the collection of flowers depends on the depth of the pond.
If your pond is wide enough, but not deep, then you should choose plants from this list.

They are: marsh mint, horsetail, anacharis and cardinal flower.

If the depth of the reservoir is more significant, then the list of plants can be safely increased and modified.

They are: water lily hyacinth, water star and lettuce, Salvinia, ceratophyllum.
Creating a pond in a container is not an easy, but feasible task. So that the work is not in vain, and your artificial pond pleases with its beauty, it should be systematically and properly cared for.