Creative Glass Studio is a London-based company providing a diversity of premium-quality shower enclosures with advanced options. The frameless shower screens are represented at https://creativeglassstudio.co.uk/bespoke-shower-enclosures/shower-screens/.
What is special about a frameless shower screen?
Thanks to a diversity of constructions, it is easy to pick up a matching variant and arrange a wet area in the best way possible, considering specific technical issues. In contrast to framed shower screens, the frameless ones are equipped with frameless hinged glass doors. The fixed screens can be mounted with a metal profile or left without the frame. There are structures with an open entry. Panels are always made from glass, permitting light to come through. This peculiarity makes the shower area lit even without lamps placed inside it. Designs, sizes, and options can be different. Fittings, handles, knobs, hinges, and finishes add to the entire picture. 
Construction types
There are several variations of the structure:
For large openings in the shower area, it is recommended to choose frameless shower doors with an inline panel, which is required to fill the spare space between the wall and the door. 

Another brilliant option is fixed shower screens, which come without any doors. They have a stylish look and handle the problem of water splashes, provided that the entry is at least 600 mm wide and the panels' width exceeds the range of 900 mm. 

Those who want to isolate the wet area to the extent possible could have a frameless shower enclosure installed on a tray or wet room tiled floor. It can be built next to a bathtub, too. There is a door set in different ways to meet the particular needs of customers. 

A sliding shower enclosure should be considered for small bathrooms with a lack of space for the door opening. Here, the only limit is the width of the entry to the showering area, which should exceed 1000 mm; otherwise, the door opening will be too small.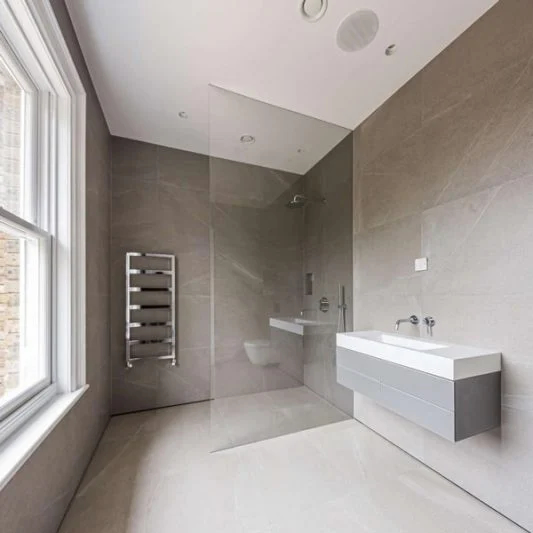 Decorative options
If you look through the catalogue at https://creativeglassstudio.co.uk/bespoke-shower-enclosures/shower-screens/, you'll find various options Creative Glass Studio provides. The manufacturer usually uses safe, toughened glass measuring 10мм in thickness. It is about six times stronger and sturdier compared with non-toughened float glass. In addition, various effects and colours are available.
The fixed shower screen can be made from regular flat or curved glass. The latter is quite pricey, but its unique shape adds a lot to the design of a bathroom. Glass screens and doors are covered with the Hydrophobic Surface Protection System for Glass (easy clean glass coating) that prevents water and mineral deposits from building on the surface. Protection lasts for more than five years.
Regular glass has a little greenish tint due to the iron used. There is its clearer analogue, the Optiwhite glass, with low iron content. This option slightly increases the price, but it is worth it. They do a lot of hues and effects. The glass can be tinted or frosted. The laminated version is available. The coloured interlayer is placed between two glass panels to make the fixed glass screen and the shower screen door glow with colour.
A threshold (10 mm in height) is fixed to the floor or tray if a sliding door is used. Such a small item is made of metal or pure acrylic and can be coloured or transparent. In addition, there are various hinges, handles, towel rails and knobs. The hardware can be designed in lots of variants. Choose black, white, brass, nickel, copper, bronze, gunmetal (antique, brush, satin, polished), and other finishes. Customized colour is available as an additional option.
After making shower enclosures for over 20 years, the manufacturer continues offering highly functional and stylishly designed products, following hot industry trends. They offer a wide range of products and assembly options. Contact them to find out the details.